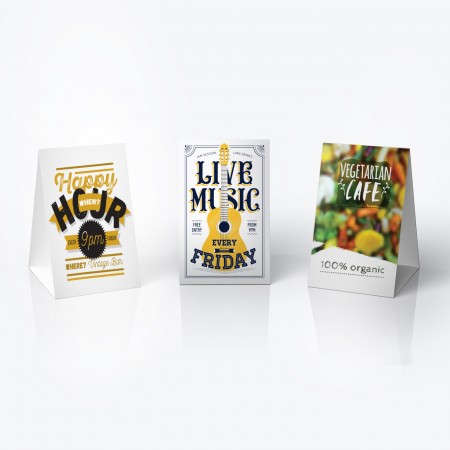 What Are A6 Tent Cards? A6 Tent Cards are versatile, double-sided cards that fold into an A6 size, making them perfect for tabletop displays. These cards are ideal for showcasing your brand, sharing information, promoting specials, or simply adding a personal touch to your presentation.
Why Choose Our A6 Tent Cards?
Premium Quality: We use high-quality materials and printing techniques to ensure your tent cards look professional and eye-catching.

Customization: Tailor your A6 Tent Cards to your exact needs. From design and content to finishes, you have full creative control.

Versatility: Whether you're a restaurant owner, event planner, retailer, or business professional, our A6 Tent Cards can be used in a multitude of settings.

Budget-Friendly: We offer competitive pricing without compromising on quality, making these cards suitable for businesses of all sizes.

Easy Assembly: Folding our A6 Tent Cards is a breeze, and they stand firm, creating a noticeable, 3D-like display.
Our Range of Applications:
Restaurants & Cafes: Display daily specials, dessert menus, or drink offerings in a stylish manner.

Retail Stores: Promote new products, limited-time discounts, or loyalty programs right at the checkout.

Trade Shows & Events: Attract visitors to your booth or provide essential information with branded tent cards.

Office & Meetings: Use them for presentations, meeting agendas, or personalized name cards.
Downloads
---
Available Options
This product has a minimum quantity of 10