Please read our top tips on design and using our website before contacting us
:
I am having issues with my code?
See our guide here :
https://grangeprint.com/voucher-page
What are the optional extras under 'Customise this product'
All the extras on our canvases are optional. Please select and de-select these on the 'customise this product' screen.
Please note you cannot change these once your product is in your basket so please choose the correct options from the drop down boxes.
Once an order is processing we cannot amend these extras.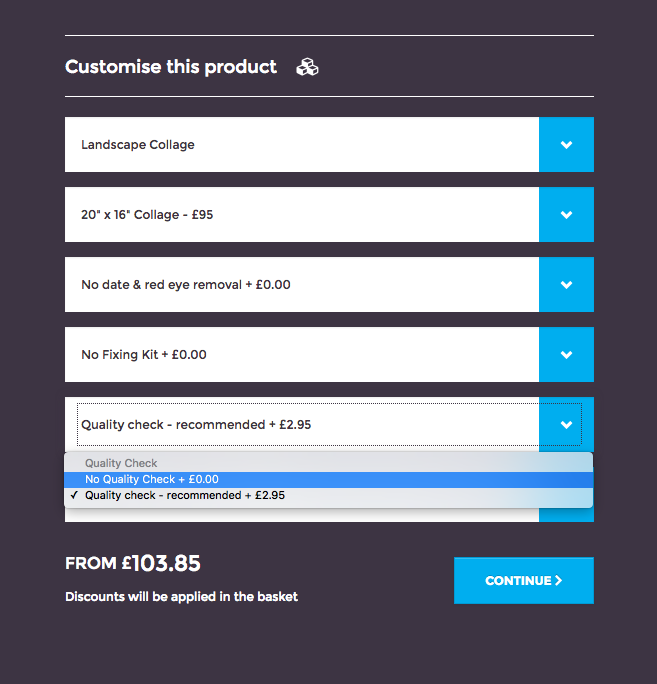 What happens on a quality check?
Our designers will check your images for appropriate quality and to check no images are missing.
We will brighten them if needed.
We will contact you if your images are low quality- e.g blurry/grainy/pixelated.
We do not check the position of photos or the edges.
You will be sent an email titled 'new image request' if any images are low quality. Please ensure you add 'info@grangeprint.com' to your recognised senders.
When you receive a new image request you can choose to amend photos. Our designer will let you know which photos are low quality. Please click 'redo' and 'edit order' on the link and swap your images. Click add to cart when done. You will then be asked to close your screen. There is no need to create a new order, enter codes or make any payment. Our designer will then check the new version and either set your order to 'processing' or email you back if the new version is low quality.
You may also decide you want to use photos despite quality warnings. This is no problem, simply follow the new image request link and click accept. We will then print your product with a note you have taken responsibility for the quality.
Please note we always recommend this check. Products are sent direct to print without this and we will not see errors or quality issues.
We do NOT offer refunds or re-prints on orders placed without a quality check.
Please note we cannot offer refunds on goods after a quality check has taken place. Should you not have a suitable image, you can leave the order open as a credit to be used when you have a suitable image.
Please note production time is 10 working days from when we have a suitable image or an image accept status.
What is a hanging kit?
This is an optional fitting to ensure your canvas sits on your wall in the perfect position. It consists of a bracket and a screw which is easy to attach. If your canvas is knocked accidentally it will not fall or move easily. All you need is a screw or a nail and you're good to go! You will find the hanger and attachment in a small clear packet with the canvas.
Please see fitting guide here.
https://i.ytimg.com/vi/cuwB9F1LJJw/maxresdefault.jpg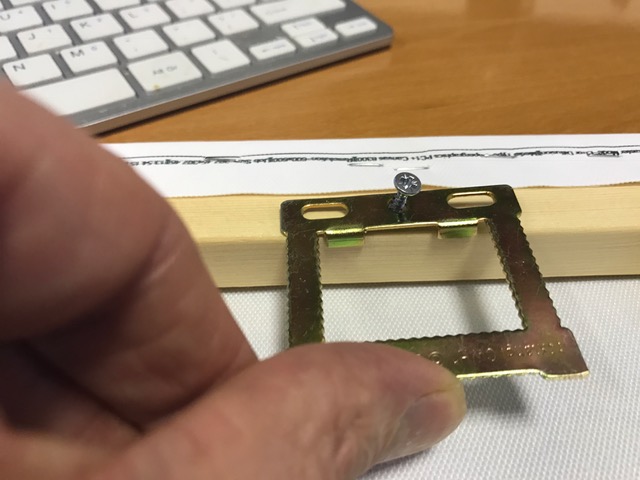 What is canvas coating?
The only manufacturer to offer revolutionary heat sealed canvas coating. This special satin matt laminated film is pressure mounted onto the canvas. The result is a fantastic finished canvas with no cracking and it is so robust that the ink cannot be scratched off the canvas. In addition, the film protects the canvas from UV light which can cause inks to fade over time.
I have a voucher code for a collage but only want to use 1 image
There is a template for 'single image' on the design page. To view the templates please go to the design screen where you upload your photos. Please click on the layout button (magic wand) to view all of our templates :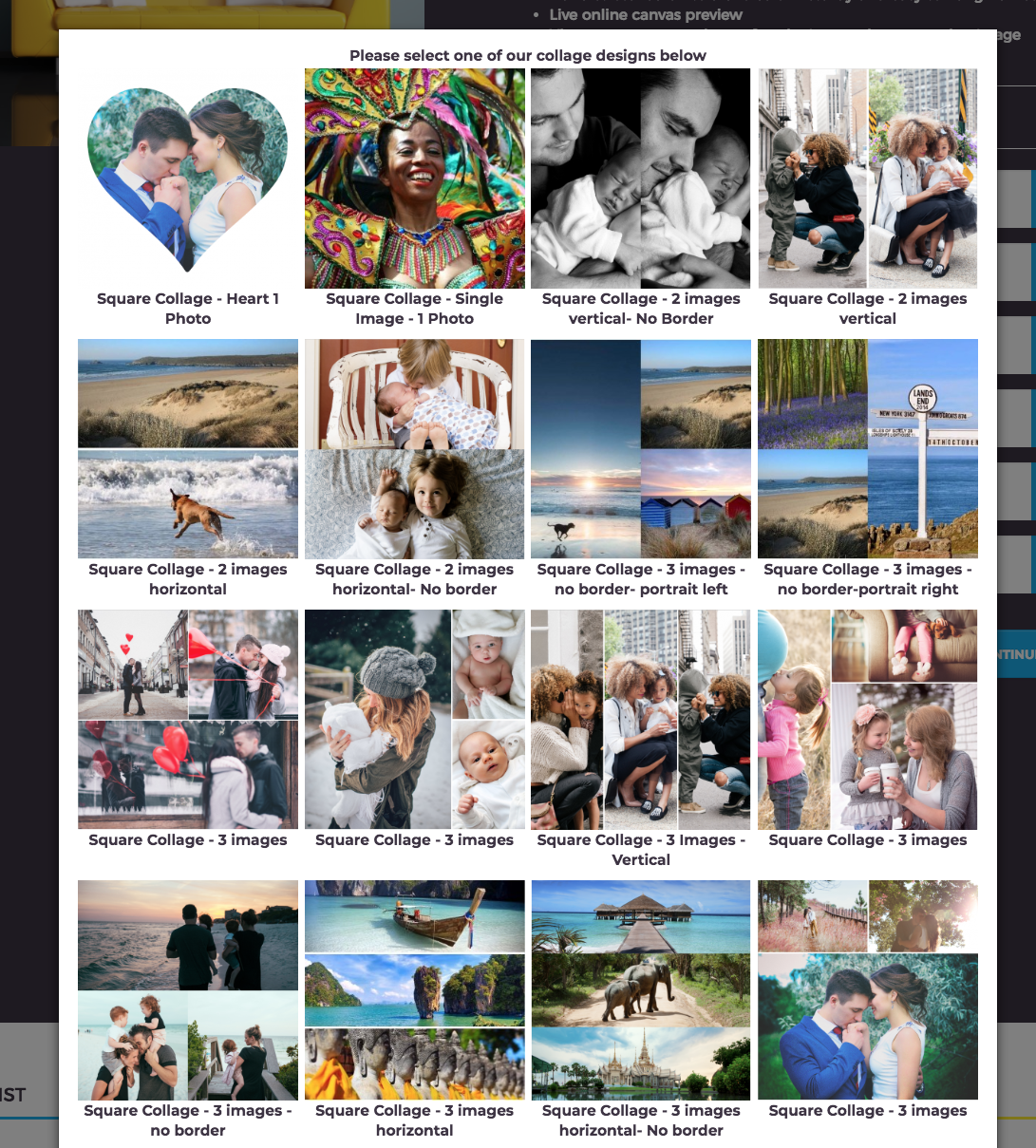 I'm having trouble uploading pictures?
Please read our tips here :
https://grangeprint.com/image-advice

How do crop or remove my photo?
Please click on the photo. A box with 3 icons appears.
Pencil icon : please click to crop your photo
Trash can : This removes your photo from our canvas. The imge will remain in your library. Please note images cannot be removed from the library once uploaded.

I have received an email with 'new image request'
Please read the instructions on your email which will advise you which images are not suitable and why.
Please click on the link and choose 'accept' if you wish to go ahead with the quality as it is. Your order will then be printed. We cannot offer replacements or refunds should you not be happy with the low quality.
To amend photos click 'redo'. To change just some of images click 'edit order' You can then amend the low quality images and click 'add to cart'.
If you wish to start again click 're-do' then 'start from scratch'. Please note we only hold your images on our server for 2 months so if you have an old image request you may need to re-create your order. You can choose a brand new layout if you wish. Click on the layout button (magic wand) to view all of our templates.
Once you have completed the above, your revised order will go to our designer to re-check. We will then set your order to 'processing' if it meets quality standards or send a 'new image request' if there are still quality issues. Please check your emails for updates and ensure we are in your recognised senders.
Please note it may take several days to complete quality checks.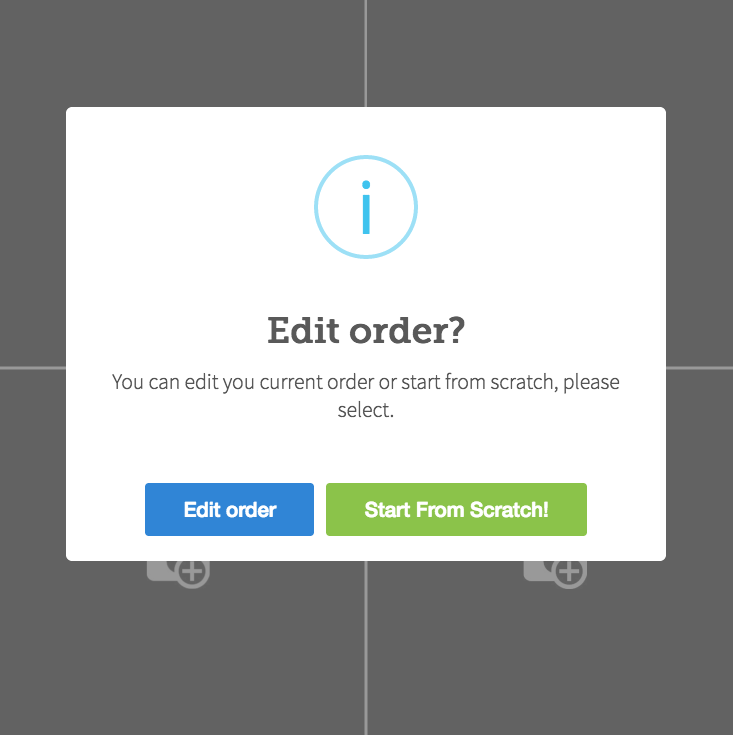 How do I save my work?

Please hit the load/save icon on the design page. Your work will be saved for 24 hours to the device you are working on only.
We cannot access your saved work as it is saved to your device not our server.

How do I see my saved work?
After logging in please select the exact same product you were working on e.g. collage canvas, 16 x 22".
On the design page where you upload your images, please hit the 'load/save' icon and then click on the last saved version.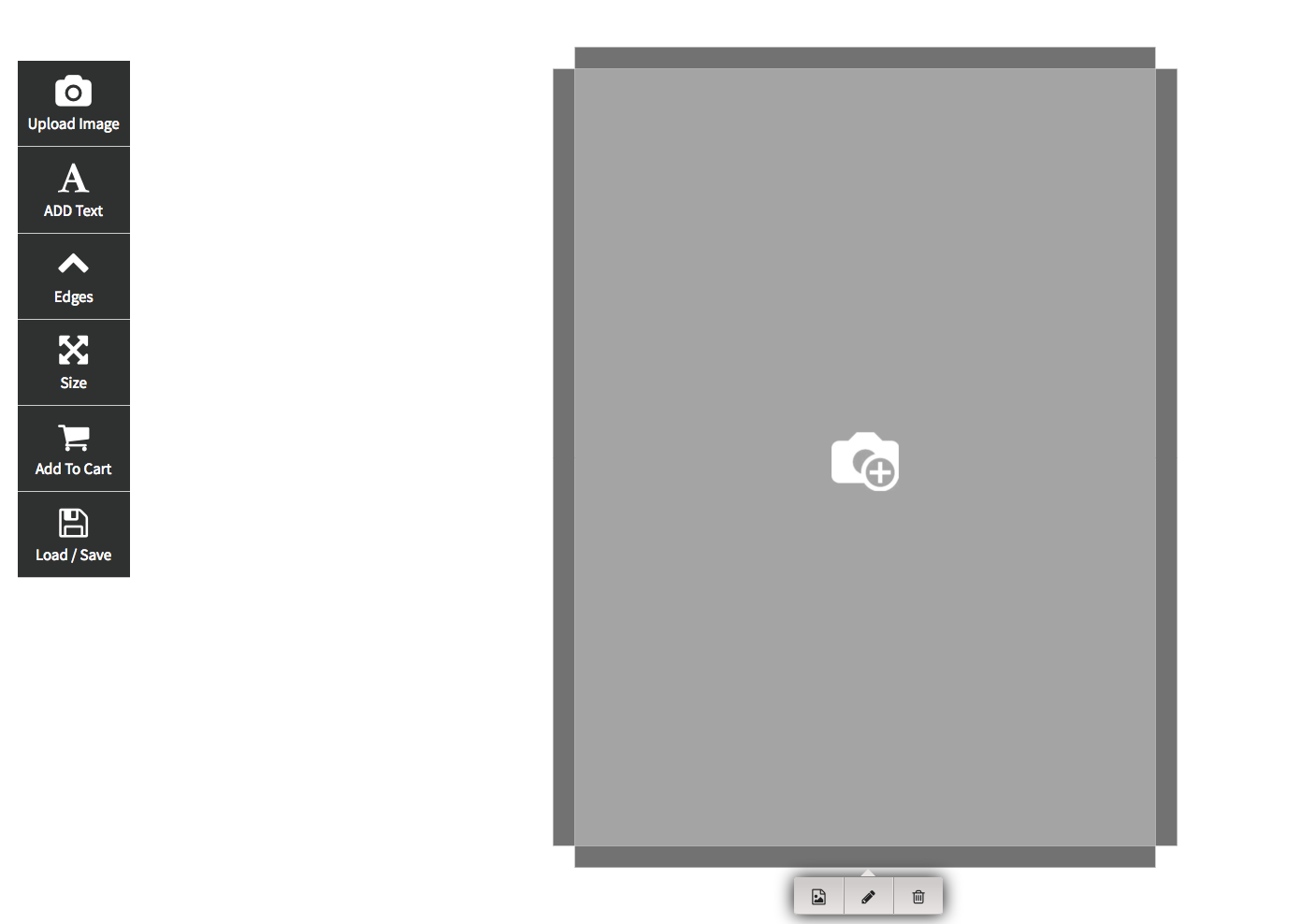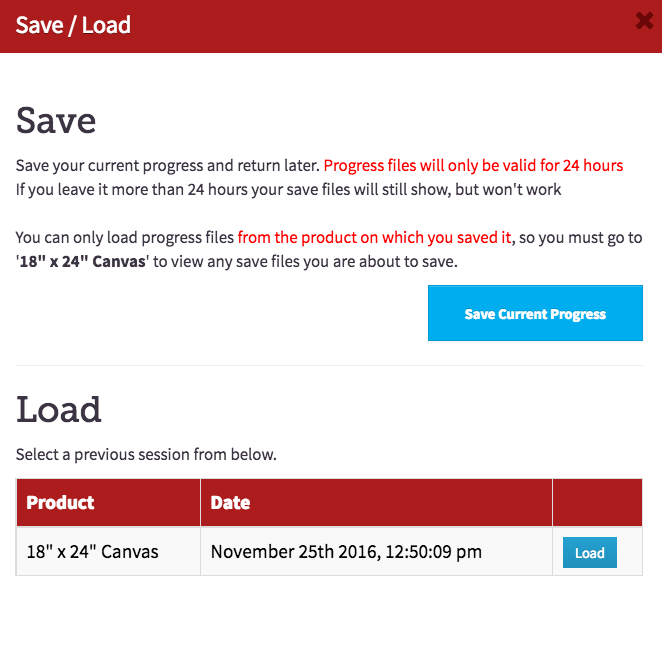 How do I make my photo black and white?
This is on page 2 of the design process.
Please click on 'options' and then the 'image type' button below. Please click black and white.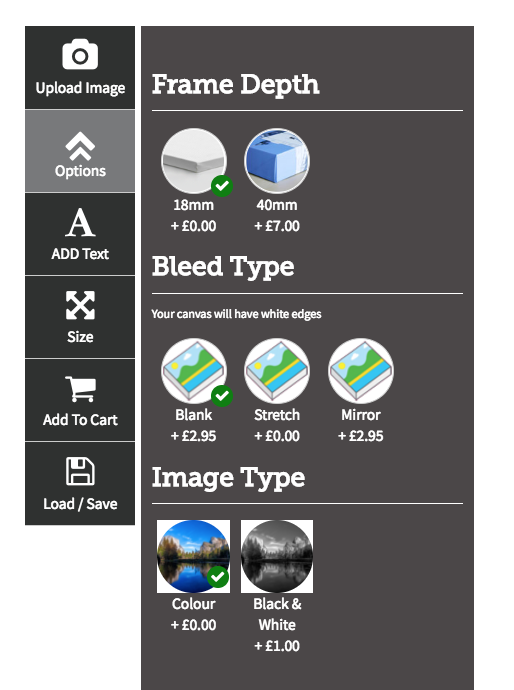 Canvas Edges. Bleed type - what is this and how do I change it?
This relates to the edges of the canvas and can be changed on the design screen where you add your photo.
Please select 'options' then 'bleed type'
How do I select a thicker frame?
Our standard frame is set as the default frame and measures 18mm.
Should you require a thicker frame we offer a 40mm frame which means your canvas will stand further off the wall and the frame gives a professional and luxurious finish.
This can be selected under 'options' on the design page where you upload your photo.
Edge Guide
PLEASE ALLOW 25MM FROM THE EDGE FOR ALL IMAGES


Stretch edges

: your image will be wrapped around the canvas frame. Please ensure you have no parts of your image close to the edge such as people as you will lose some of the image when it is wrapped around the frame. Please check before adding to cart and ensure you opt for blank edges or mirrored edges if you have any of the image you do not want to lose. All of our canvase are set to blank edge as the default. If you change to stretch edge you will see a warning pop up box and also a preview of the new version. Please check you are happy with the position of all photos on the new stretched edge canvas. We cannot refund or replace canvases where you have made an error.


Blank

: the edges of your canvas will be white and your whole image will be on the front of the canvas. Please do not place any images close to the edge. Allow 25mm.


Mirror

: Your entire image will be on the front of the canvas. We will mirror what is on the front of your canvas on the edges so they match around the sides.
Please ensure you have selected the correct bleed type. You can see how each edge looks on the preview screen.
Items are sent to print with the edges selected on the order and we cannot amend once it has gone to print.
If you want to change the 'bleed type' when you have your product in your basket - please click 'edit order' then 'edges'. You can then see previews of the different edge types, Please 'add to cart' when finished.